[IMPORTANT NOTICE]
Haruka Wushu Training Center(HWTC) Has No Any Branch or No Affiliation Unit, Has Not Published Any Instrurctors / Coaches / Trainers Yet Also.
At the present, Training Center Is Main Training Center By Direct Haruka Ito Instruction ONLY.

Dakshina Kannada District Wushu Association got 1 gold and 1 silver medals in 14th Karnataka State Wushu Championship.

Haruka Wushu Training Center was founded in 2014 with an intention to propagate the Chinese traditional culture and promote Chinese Martial Arts so as to uplift the youth and invigorate the elderly, making them more involved in various activities. Founder Haruka Ito has been promoting Wushu in Mangalore since 2013 already.

The center offers training in Wushu and Taichi in various neighbourhoods to students of all ages, whether they are elite competitive athletes, beginners, or elderly participants looking to enjoy a recreational activity and improve their overall health...

TAI CHI is not only the one supreme ultimate martial arts, also extremely famous and popular oriental-fitness exercise all over the world.
Tai Chi is the slow move internal exercise for all, any age people can practice, it has huge health benefit and it's great Asian Culture.
The first Tai Chi Class of HARUKA WUSHU TRAINING CENTER(HWTC) started from JANUARY 12th, 2014.
This class is the one which is for practicing exhibition routine(Taolu).
All Girls and Ladies are the most welcome, because the majority of World Tai Chi society are the women.

*Important Notice: Wushu(Kung Fu) and Taijiquan(Tai Chi) are NOT Karate, entirely different.

[Upcoming Event]
Dakshina Kannada District Wushu Association(DKDWA) Inauguration
Date: Sunday, October 25th, 2015
Timing: 10:30AM START Venue: Bharatiya Vidya Bhavan (Pandenshwar, Mangaluru)


[Past Event]


14th Karnataka State Wushu Championship
Date: September 4th-6th, 2015
Place: Bagalkot, Karnataka

World Tai Chi and Qi Gong Day Mangalore 2015
Date: Saturday, April 25th, 2015
Start Time: 10:00AM sharp
Venue: Yenepoya College Building 4th Floor
Behind Yenepoya Commercial Complex(KENWOOD Showroom),
Balmatta, Mangalore
Admission: Free
Contents: Introduction of Tai Chi, Demonstration and Workshop
*For Global Information: http://worldtaichiday.org
This is OPEN event, everyone can participate.
HWCI cordially welcome you to join this event with your family and friends.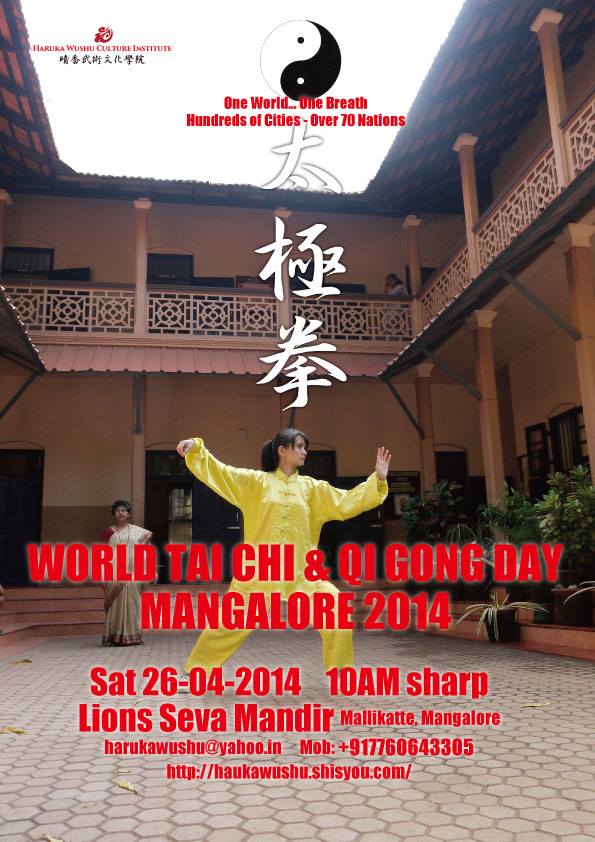 HWTC Founder and Technical Director(Coach): Ms. Haruka Ito
Gold Medalist at Hong Kong International Wushu Festival in 2005/2007-2009.
Taolu Judge at The 8th Hong Kong International Wushu Festival(2010) and The 12th Karnataka State Wushu Championship(2013).
Past Board of Directors at Lions Club Mangalore
Contact form: http://www.123contactform.com/form-872250/Contact-Form